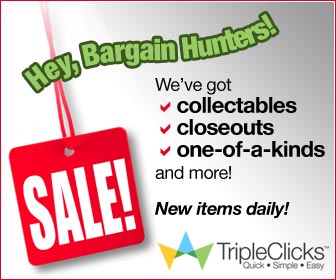 HEY YOU

,
ya you.... Do you have stuff laying around doing nothing but collecting dust?
Think of all the things you could do or have if you only got rid of all that stuff laying around.
Well now you can
The TC Member Listings Program
ITS Another component of TC you need to know about.It is called the TC Member Listings Program, which allows you to sell your stuff right alongside TC's other products and services.
With the member listings program you can very easily, quickly and cheaply convert things you no longer want or need into things you do! List your items at TC, and sell for CASH..or for any product in the store. you can even earn (if you are a member of sfi) SFI Executive Affiliate (EA) status each month selling unwanted items that you have around your house.
Use TC (tripleclicks) as your online garage sale to clean out your closets,attics,and garage.
Here's how easy it is:
1.
Register FREE
as a TripleClicks Member (if you haven't already).
2.
Purchase some TripleClicks credits
(for as little as 29 cents each) to use whenever you want.
3.
List your items
(each listing costs you just one credit). You can use up to 700 words and up to three photos for each item and we'll continue to run your listing
for as long as you'd like.
4. Each time someone buys one of your items, we'll notify you with an e-mail so you can ship the item to the buyer.
5. Once delivery is confirmed, you get paid! It's that easy!
http://www.direct.sixfigureincome.com
Have your own store? Want worldwide exposure?
It is called the ECA program.
The ECA Program allows commercial sellers and companies of all kinds, from all over the world, to market their products and services side by side with SFI's and Tripleclicks own products and sevices at Tripleclicks.com and they have made it really very easy for companies to plug in their services and products. so easy indeed, the ECA theme is "plug into a world of new customers!" There is no cost for ECA's to list their products or services . ECA's can immediatly begin taking advantage of the exposure and growing Worldwide traffic of Tripleclicks.com
http://www.tripleclicks.com/
14389353/ECA
SFI has guidlines for acceptance into the ECA program
In short,SFI looks for reputable, established companies that sell quality, non-controversial products or services. Companies that have a physical retail store and/or who create or manufacture their own products are most coveted. Companies must also be responsive to SFI requests, they must process orders promptly, and they must stand behind their products with appropriate return policies. interested?
http://www.serious.homebusinessmillionaire.com